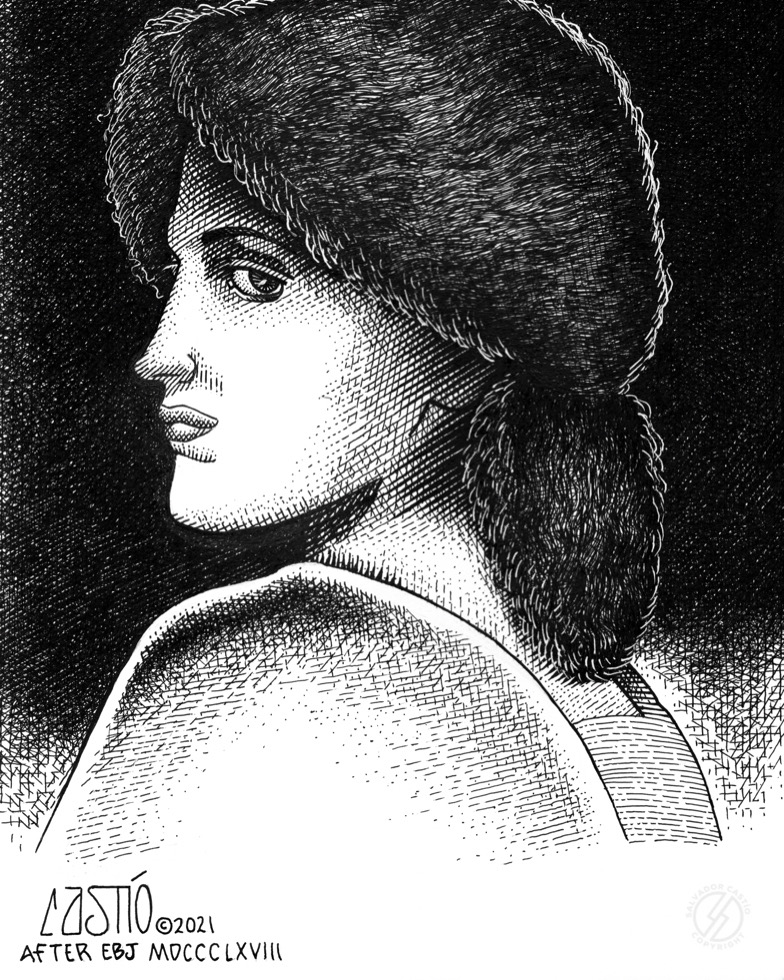 In the fall of 1971, when I was five years old, I had a peculiar experience that changed my life forever. Up until now, only a handful of people have heard this story. One afternoon, in my kindergarten class, I was standing in front of an easel, blissfully splattering tempera paint onto a large sheet of construction paper. Like all the other kids in my class, I focused on creating something from the large blobs of color I was applying to my paper's surface. I was, as they say nowadays, in the zone. During those moments of complete concentration, I had a vision that I have never forgotten. The blobs of color on my sheet of paper transformed into a scene before my eyes. Suddenly my brush strokes of alizarin crimson and cobalt blue had become the inside of a large, ornate building. I recall standing in silence, taking everything in. The room I was standing in was vast, and large framed paintings adorned its walls. I remember scanning the room slowly from top to bottom and side to side. Suddenly, something caught my eye. In the distance, in one of the large frames, was the painting I had been creating in my classroom. I'm not claiming clairvoyance at the age of five, nor do I claim to have been able to articulate what was occurring at that moment. Still, intuitively, I understood the message behind what I was seeing. I stood there frozen in disbelief as I looked at my work on that enormous wall. There was no question that what I saw that day was my destiny. I have never once doubted what happened that day. I'm damn lucky, and I know it. Not everyone knows what they want to do for the rest of their life at age five.
       My first-grade teacher, whose name I've sadly forgotten, confirmed what I already knew when she pulled my mom aside during a parents' night at school to tell her that her son had real talent that she should nurture and encourage. My mom didn't miss a beat and began her lifelong support of helping me achieve my goals, including going to art school and becoming a professional. 
     I can't begin to tell you how much art has helped me over the past five decades and how, in many ways, it saved me as well. In elementary school, I was your classic nerd kid. Black, thick-rimmed glasses, funky haircut, and insecure as fuck. To make things even worse, I had a noticeable strabismus, and I struggled with math. All those things made me a prime target for all the tiny assholes in my class. There were days when I felt like I was in hell. The insults, put-downs, and vicious cracks at my expense went on for years. 
     Thankfully, art was always there to help console me; it has never failed me. During those difficult years, I realized that I could do something unique that others couldn't do. That gave me inner strength. I may have felt great insecurity because of my awkward appearance and weak math skills, but my talent was iron-clad and untouchable. I wasn't the best at drawing in school – some kids drew better than me, but that didn't matter. Nothing was going to stop me from developing and refining my talent. That realization, more than any other, sealed my fate. It was the one area where I had total control.
     I come from humble beginnings: I lived in the projects and Section 8 housing in my youth. It was there that I began to read comics and became exposed to art. Comic books opened up another world for me. Along with their fantastic tales of heroic do-gooders and sinister villains, they also exposed me to the brilliant draftsmanship of Neil Adams and the genius-level imagination of Jack Kirby. Because of that, all I ever wanted to do was draw, draw, draw. When you're an only child, you have lots of time to fill, and nothing does that better than drawing. I may have lived in the projects, but comics lit the flame that continues to burn brightly to this very day. Art not only allowed me to survive those challenging years, but it also allowed me to grow as a person.
     My mom knew no boundaries when it came to supporting my talent. It's because of her never-ending efforts that I am the artist I am today. Despite money being tight, she made things happen for me. When I was thirteen, I got my first drawing table, and I started my first formal art training a year later at fourteen. The tutor that my mom found for me was a local artist named John Sierra. At the time, John had a large studio in an industrial area of Fresno, where he worked on mural designs, amongst other things. His work was excellent, and I benefitted greatly from his expertise. He taught me the fundamentals of drawing: basic shapes, shading, and perspective. Those things were eye-opening for me. At fifteen, I continued my education via a two-year correspondence course through Art Instruction Schools. Without telling my parents, I had replied to the "Draw me'" ad from TV Guide. The next thing you know, there was a rep from the school in our living room, signing me up for a two-year stint. That course expanded my knowledge by teaching me basic color theory, multi-point perspective, and composition. That course aided in my development throughout high school. In 1985, Otis Art Institute of Parsons School of Design accepted me into their illustration program. I was only there for a semester, but my time there left its mark – it instilled a level of excellence that has never left me. Parsons School of Design ranks as one of the world's best art and design colleges, and I remain fiercely proud of my time there. My art school odyssey continued throughout the late eighties and early nineties in San Francisco. My educational journey finally came to a close in 1992 when I finished my studies at the Academy of Art College, where I majored in illustration. 
     In my formative years, my artist heroes set the bar for me. They also reinforced the belief that I'd had since childhood that I could be great at what I do if I worked hard and long enough. More than any other, that belief has helped me weather all the uncertainties and personal changes that I've experienced over the past three decades. To make art, you have to believe in yourself and what you do. To do great work, you have to be willing to play the long game. That requires an unusual amount of patience. There are no shortcuts – either you put in the time at the drawing board or don't.
     I've come a long way since my vision of my future at five and my discovery of art through comic books in the early 1970s; my taste in art and my skill have expanded significantly since then. I have never been ashamed of where I come from and will always be proud of that. That, however, does not mean that I wanted to stay there either. When you come from a modest background, it either pushes you to achieve your goals or kills them for you. Over the past thirty-five years, I have been through many changes and ups and downs. All through it, I have continued to draw and to strive. Onward, ever onward.  
Drawing used in this post
In 1868, Burne-Jones was in the throes of a turbulent affair with Maria Zambaco, his Anglo-Greek muse, and model. During that period, Burne-Jones produced an extraordinary series of pencil drawings of Maria. I based my drawing for this post on one of these drawings. I don't pretend that my drawing captures the level of subtlety inherent in EBJ's brilliant drawing – pencil and pen and ink are two completely different mediums, each with their unique properties. I wouldn't consider this a finished piece; I look at it more like a study. Maria Zambaco remains a bit of an enigma to this day. New details about her life have emerged over the past decade, but there's still a lot that remains unknown about her. Burne-Jones ended his affair with Maria in 1869. Over the following ten years, he became the most celebrated Pre-Raphaelite painter of the late nineteenth century. Maria eventually moved to Paris, where she continued her artistic career working with people like Aguste Rodin. She died there in 1914.