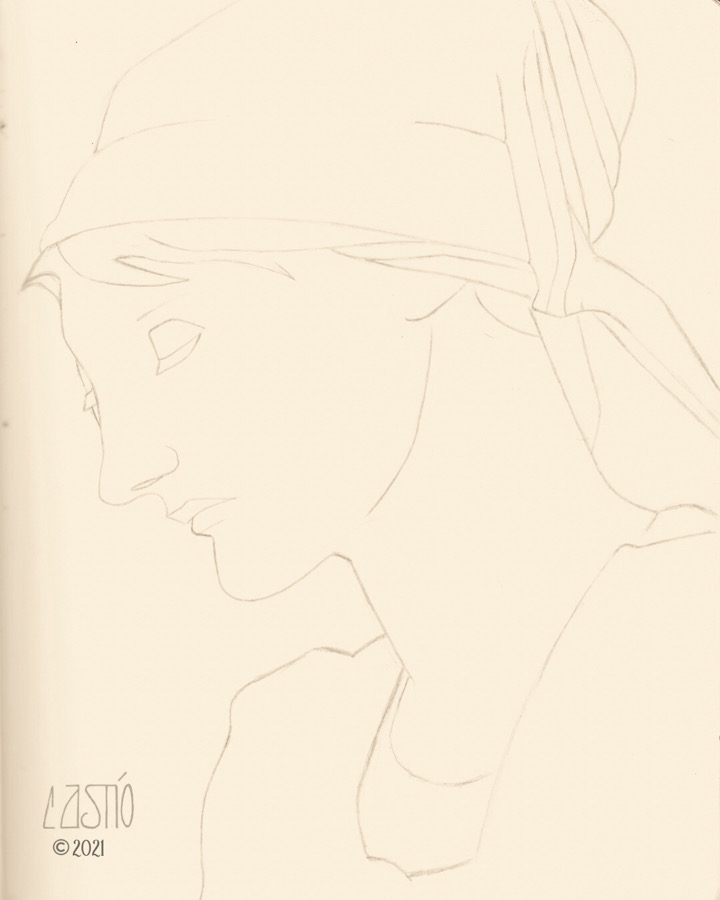 One of the challenges of writing a fortnightly blog is accepting that real life can and will step in and throw a wrench into the best laid out plans. I wrote and edited the blog post that you should be reading right now a week ago and had gotten pretty far into the drawing that will be accompanying it as well. As you know, I work in pen and ink, and if you're somewhat familiar with that medium, you know that making corrections can be time-consuming. To my utter horror, yesterday evening, I realized that the drawing that I've been working on was off and had to stop and correct the error. Correcting mistakes in pen and ink involves applying a copious amount of white designers gouache to the affected area. The gouache then needs to be allowed to dry before any redrawing can start to happen. Precious time gets eaten up between things such as covering the error, redrawing, and reinking. 
      Those things were the least of my worries as real life had bigger plans for little ol' me. Over the weekend, our landlord informed us that people would be coming to trim the trees around the house. In all honesty, I didn't even give it a second thought. Why should I? I was too busy putting together this week's blog post, so why should I care? Here's why: on Monday morning, the quiet bliss of my petit atelier was hijacked by the raucous cacophony of chainsaws and men bickering back and forth in Spanish. Being a fluent Spanish speaker, I couldn't help being a Gladys Kravitz. I heard the old guy in the bunch tell one of the younger workers, "Oye, ¿sabes qué? No sabes nada y es mejor que te calles la boca." Oh man, it was getting tense up there, and it wasn't even noon yet. The old guy didn't take crap from anyone, and he wasn't scared to speak his mind either. That dear reader is what's known in Spanish as hablar sin pelos en la lengua. The unnerving buzz of chainsaws, the clanking of ladders, and the bickering in Spanish went on for three days. 
     All this made it impossible to concentrate and get my drawing done in time. After three days, the buzz of those chainsaws had me up a tree. Making art and chainsaws don't mix well unless you're making sculptures from tree trunks. Anyhow, instead of leaving you wondering why this week's blog post got delayed, I thought I'd serve you a tasty little tapa and fill you in on the events of the past three days. Fear not – this week's post will be appearing over the next few days, along with a spectacular new drawing.
About the drawing used in this post
The drawing used in this post was done two years ago and meant to be finished and published in a blog post, but for some reason, it got lost in the shuffle of daily creative life. I based my drawing on a painting by Burne-Jones, my artist-hero and guiding light. I want to finish this and publish it in an upcoming blog post. Now that fall has arrived and winter is around the corner, I can settle in and start catching up on the mountain of projects that have piled up over the years.