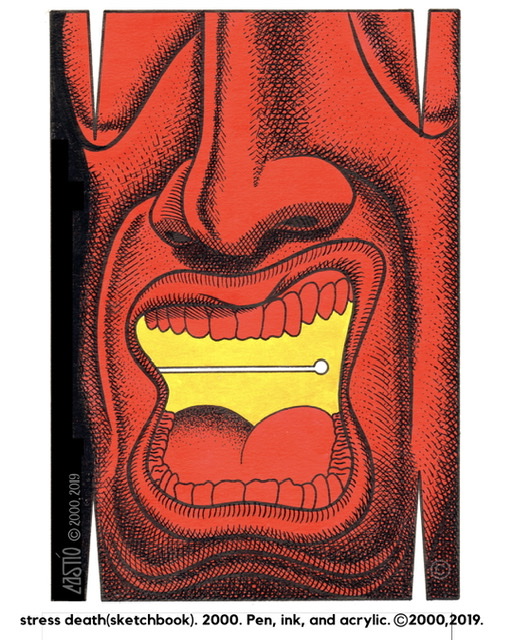 A cool October breeze blows gently through the trees outside my house as leaves rustle, swoosh, and swirl to the ground. Along with the rustling of leaves there are other sounds that waft through the air on a daily basis in my neighborhood: neighbors mowing their lawns, kids going to school, people walking their dogs, and people out for their daily runs. Along with all that hustle and bustle is the sonic cacophony of police and fire engine sirens that seem a permanent part of the landscape. Without them blaring in the background this place would feel a little off-kilter.
Aside from the neighborhood sounds and the daily chorus of sirens, there's another sound that fills the air near my house on an almost daily basis. It is perhaps even more unnerving and jarring than the aforementioned chorus of sirens. Directly behind my house there's a small, rundown rehabilitation center for senior citizens; I've lived in my house for two years and up until six months ago everything seemed fine. Recently, though, I am forced to listen to the agonizing screams of an elderly woman who clearly suffers from some sort of a mentally debilitating illness. She screams at the top of her lungs nonstop for what seems like hours on some days. She's clearly in mental anguish, and it's unsettling to hear her call out in such desperation. 
I often wonder, "What if that was me?" The mere thought of going through what this poor woman goes through on an almost daily basis sends chills down my spine. More than anything, it reminds me of just how damn lucky I am. The fact that I wake up every morning in complete control of my bodily functions is a total blessing that I can't overlook and yet sometimes I do. I can only imagine how much of a torture it must be for this poor woman to get through days that most of us spend pissing away on the most banal  and trivial of things. Think about this, you're driving somewhere and someone unexpectedly pulls out in front of you and it triggers some ego-induced road rage that gets you to speed up and go and cut the person off just to satisfy some pathetic need to be dominant or perhaps you spend your days online spewing nonsense and reveling in the fact that you can because you choose to. We think these things are torturous and are the worst things that could happen to us. We go home and spend our time complaining about these things that are, in the larger picture, trivialities. The woman in the rehab center behind me doesn't have those luxuries available to her anymore. Instead, she spends her days in a type of mental anguish that I wouldn't wish on my worst enemy. Somebody has to feed her, dress her, bathe her, clean her, and most of all, make sure that she's safe. Hissy fits about other drivers and what someone said to you on Facebook are things that are completely nonexistent in this woman's world. Trust me, pissing away your time because you choose to do so is a luxury that most people take for granted each and every single day. 
The anguished screams that flow through the air near my house do not go unnoticed. Those screams have meaning to me. As one person fights with every ounce of her being to get through another day, I have the luxury to learn something from her and to gain some perspective on my life. Despite it all, things aren't so bad for me. How could I even think that they're anything other than damn good knowing full well that I could be the person screaming behind my house in the blink of an eye. 
I'll leave you with this bit of food for thought: someone said something or posted something on Facebook that upset you. The woman in the rehab center behind my house is screaming in mental anguish as she struggles to get through another day. Now, please tell me again about  how upsetting your insignificant Facebook incident was. We all need to get a clue.