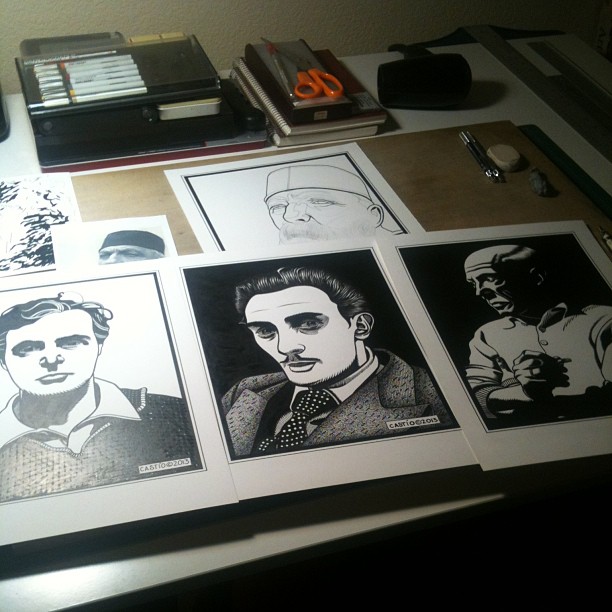 Cool things are happening right now: projects are getting started, being worked on, and getting done; new people are being met, and new friendships are being made. It's a good feeling, like a breath of fresh air.
My main project at the moment is a series of portraits of cultural figures, mostly from the Belle Époque (1871-1914). Doing these drawings gives me a chance to get back to inking in brush, something that I haven't done much of in a long time. There's something inherent in brush work that gives a drawing a much more visceral feel. It's something that you don't get when drawing with a pen – there's a certain feeling about brush work that is completely unique. Thankfully, it's something that I'm getting back to. The drawings that you see on my drawing table are (from left to right): Amedeo Modigliani, Salvador Dalí, Pablo Picasso, and behind and above, Auguste Rodin. There's lots of different people whom I'm thinking about drawing, but I'm keeping my choices somewhat spontaneous so as not to kill my own enthusiasm. The Belle Époque was a rich period for the arts and there were many interesting people involved in it. Paris really was the hub of culture at the time; perhaps it still is. The drawings are looking fabulous and I'll post more as soon as I can.

Another interesting thing that's happened recently is that I've decided to start an interview feature on my blog. Most of the interviews will be with artists whom I find interesting and whom I feel you should know more about. I'm currently putting together the first interview so it should be posted here sometime soon; I can't say whom it's with, otherwise, I'll ruin the surprise factor – I promise that you'll find it interesting and well worth the wait.
There are other things happening at the moment that will reveal themselves over the coming months; I wish I could spill my guts about them but I can't. Some things are better left to the imagination, right? In the end, life is good. Of course it's good, what else would it be?