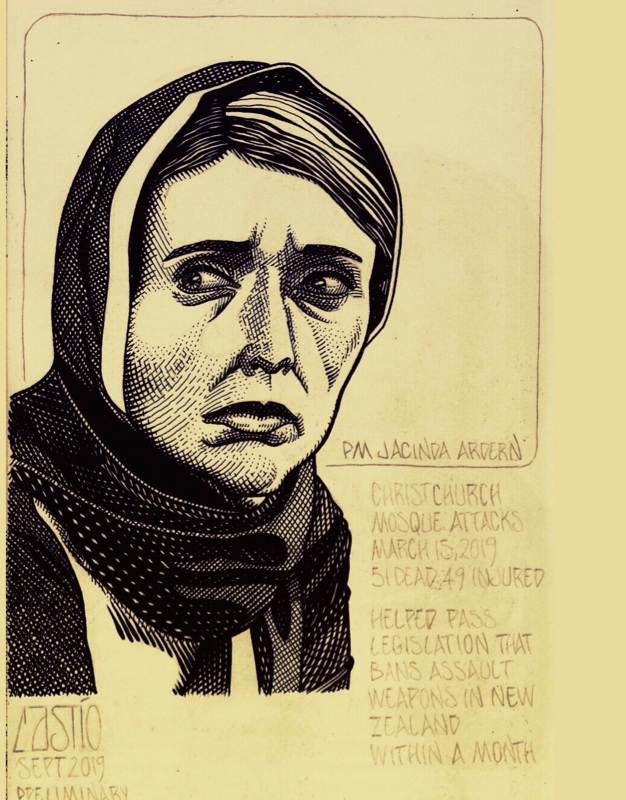 It's late on an August evening and I've spent the better part of my day behind my drawing table working on a myriad of projects, including this blog post. It's stifling in my studio tonight, but work must continue. People often ask me how much I work on a daily basis, perhaps a better question would be how much I don't work. I'm up early, around 7:30, and I'm in the studio a great part of the day. Lately, I've been racking up the hours — I'm starting to slowly edge back to those 14 hour days that were so common in the past.
The drawing that I've chosen for this new blog post is one that I've been wanting to do for quite some time. It's been quite a while since my last post; I've put off making a new post because I just couldn't bear to bring myself to publish yet another journal page filled with drawings of food or coffee-swilling patrons. These things are so commonplace nowadays that they have become cliche. Surely there's more interesting things to draw, right? There has to be more tto a post for me than the shine of silverware and the ritualistic act of daily caffeine ingestion.
Recently, the world has felt so dark. The news can be so overwhelming and it's easy to feel a sense of hopelessness and despair. As always, though, there are those that burn like beacons in the dark, showing us the way forward. Powerful women are stepping forward worldwide to guide us. These include Americans like Alexandria Ocasio-Cortez and Ruth Bader Ginsberg as well as international figures such as Greta Thunberg, the young Swedish climate activist, and Jacinda Ardern, the Prime Minister of New Zealand. On March 15, 2019 the city of Christchurch, New Zealand suffered a horrific terrorist attack where a gunman killed 51 people and injured 49 others at two local mosques during Friday prayer. In the wake of these attacks, the Prime Minister reached out to the families of the victims and held them close to her as they came to grips with such a senseless and cowardly act. Most importantly, within a month she helped pass legislation that banned assault style weapons in New Zealand.
I remember seeing images of her comforting her bereft countrymen on social media and I was moved by the great empathy that the Prime Minister showed them. Her actions were the exact opposite of what I see here in the United States — her actions were heartfelt and genuine as opposed to being just another photo op. This portrait is the first in a series of new drawings that will celebrate exceptional women.
What you see here is basically a preliminary drawing that will lead to a finished piece. I'm still working it out and finessing her features. It may look finished, but I can assure you that this is far from done. Her face is the most important element of my drawing, so her features have to be spot on. I hope that I'm able to capture the sincere and heartfelt empathy in her gaze. Showing such emotion is a challenge that I'm excited to be undertaking.