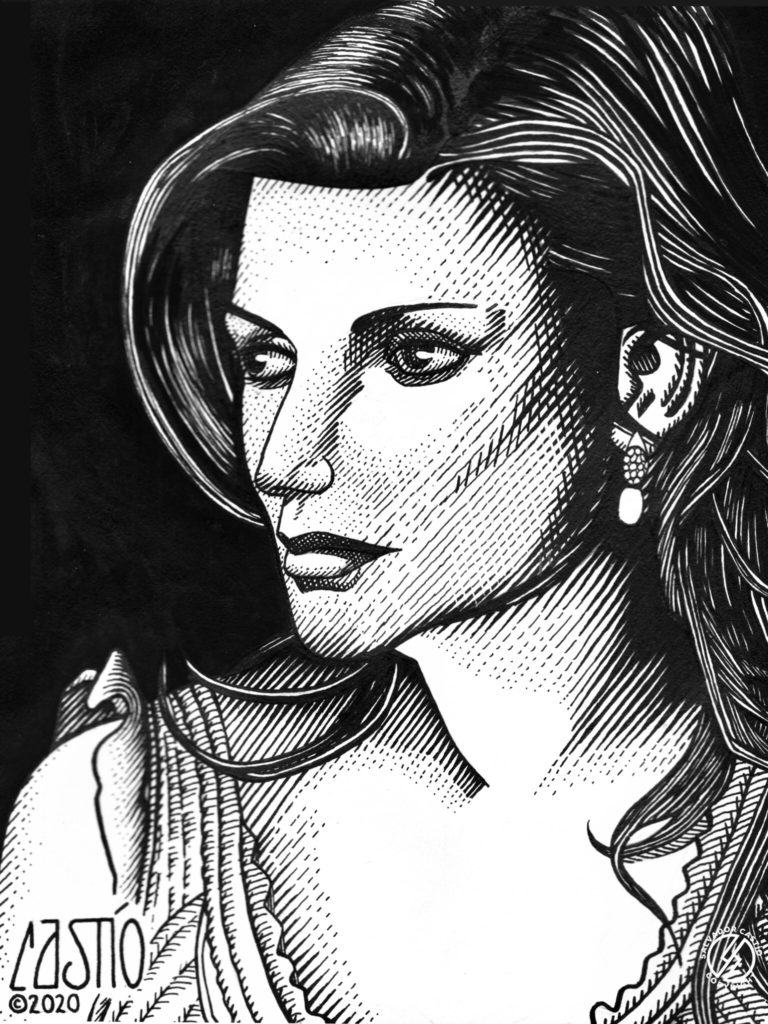 Dr. Nina Ansary (Preliminary). 2020. Pen, ink, and gouache in sketchbook. 
Today will be another might-as-well-be-living-in-Sub-Saharan-Africa day in the Central Valley. Summers here are relentless and unforgiving and their effect on my ability to be creative is just one more hurdle I have to overcome in my daily routine. It is what it is.
This week I will continue to give you an insight into what it's like to be a professional, working artist in the 21st Century. This week I am going to give you a peak into a working week from start to finish, warts and all.
Monday: My days start early, usually between 6:30 and 7:00 am. I normally start them with a book and my first of many cups of coffee. It's always been important for me to read – an artist who doesn't read is shallow in personality and short on ideas. I love reading about the lives of artists that I admire; it gives me an understanding of what I'm doing and where I'm going. 
This morning, I'm starting work on the second version of a portrait of Dr. Nina Ansary. My first preliminary pen and ink drawing adorns this week's post. As always, I feel that it can be better, so I'll likely redraw it. If I'm lucky, I'll finish work on my preliminary pencil drawing by this afternoon amidst the sweltering and unbearable heat in my petit atelier. The drawing will be in a very elementary state: a tight but loose sketch that's ready to be traced and transferred to my tracing pad where it will be refined. That probably won't happen until tomorrow at the earliest because I've got lots of other projects that I need to get to. The pieces that I will be producing in the coming months are important to me and will likely be some of the best work that I'll ever do. Great art takes time to create and I intend for these to be nothing short of extraordinary. After all these years, I'm still full of piss and vinegar, so without any hesitation whatsoever I can say that I will be going balls out on this new work and pulling no punches in its execution. My time has become precious and I despise wasting it. Most of these ideas are in a preliminary phase and there's an unimaginable amount of hours left before I can even begin to fathom putting pen to paper and bringing them to completion. 
Tuesday: This morning my work continues on my second portrait of Dr. Ansary. I traced and transferred what I did yesterday over to my tracing pad, so now I can begin to refine and hone the drawing to where I want it to be – this usually happens after multiple tracings. Once I've got the drawing where I want it to be, I'll trace it onto a thick sheet of 3 ply Strathmore series 500 Bristol board and start inking it with Rapidograph technical pens. 
By late in the afternoon, I've worked up my pencil preliminary of Dr. Ansary to a satisfactory level and move on to other projects. I'm in the process of organizing a publicity event for later this year that will showcase some of the new work that I've been talking about. All of my new work will reflect my love of 19th and 20th Century art, especially Pre-Raphaelite painters such as Sir Edward Burne-Jones and fin de siècle Symbolist painters, draftsman, and engravers such as Carlos Schwabe, Alphonse Mucha, and Gustave Doré. My new work will be a mélange of these influences and reflect personal interests such as Spanish cante, Moorish art, ancient English storytelling, and a myriad of others.
Wednesday: It's midweek, and I'm feeling a little overwhelmed with the process of choosing which projects I want to work on in the coming months. Don't get me wrong, I want to work on all of them, but I need to zero in on the ones that need to get done sooner. It's tough doing this because all of these projects are important to me. This feeling isn't anything new to me, however; it's part of my creative process. Big projects usually start like this and slowly but surely get organized in my mind. That normally takes place late at night when I'm lying wide awake ruminating on what to do. 
Today was a scorcher. When I say scorcher, you should know that it's an understatement. I was only half joking earlier when I called the weather here in The Valley Sub-Saharan. Summers here in the Central Valley can be brutal with stretches of days where the weather is over 100° F. The heat is stifling and makes it a challenge to be creative. Scorching weather or not, the show must go on. The COVID-19 pandemic has changed the dynamic for everyone including me. Initially I found myself struggling to adapt to it. My wife is a private tutor who usually goes from home to home all afternoon and evening, but all that changed with this pandemic. I was used to days where I could take a break and either read or watch TV whenever I wanted to, but that was taken away from me when my wife started working from home. The first month and a half were kind of rough and I wondered how I was going to adapt to the change. Thankfully, my wife and I worked together to develop a solution. I wake up early and have the morning hours to myself and she stays up late and enjoys the quiet hours of the night. In addition, time has helped resolve the issue. I'm grateful that both my wife and I are able to continue working and doing what we do amidst this worldwide tragedy. 
Thursday: Today it seems as if the universe has listened to my pleas and bestowed a cool and cloudy day upon me. The preliminary pen and ink that adorns this post is something that I've been working on over the past few days along with everything else I've mentioned. I'm done inking it and making corrections, so it's time to scan it and get it ready for posting to my social media accounts. The drawing is well done and whatnot, but I'm not sure I've captured my subject's elegance and aplomb. It's a solid start that will lead to a much stronger drawing when it gets worked up into a more finished piece.
Out of the blue, I've decided to start writing the post you're currently reading a little ahead of schedule because I'm driven to do it; I spend the better part of my afternoon at the computer pounding out the beginnings of this post. The urge to write is something that's becoming stronger as time goes on. Aside from these weekly blog posts, I've also started working on two manuscripts and a collection of short snippets of random moments. I'm not a writer per se, but I like to write, so this will now become part of my creative output – albeit at a much slower rate than my visual art. 
Friday: The universe continues to bless me with cool and cloudy weather. Praise. Today I'm looking forward to continuing all the preliminary work for my upcoming projects. One of the main factors that will differentiate this new work from things I've done in the past is that many of these new pieces will be substantially larger than previous work. This obviously means that it will take an even greater amount of time to complete most of the work I have planned. The most exciting thing about these new pieces is that I've been keeping a list of "Projects I Will Someday Have the Skill to Complete" for the past 35 years and I finally feel technically ready to undertake the work required to bring these ideas to fruition.
The week is ending on a good note. I 'm feeling more productive than I have in quite some time. Work on all my projects is moving ahead, and I've got everything I need in order to move forward with everything that I want to do over the coming months. Onward, ever onward.