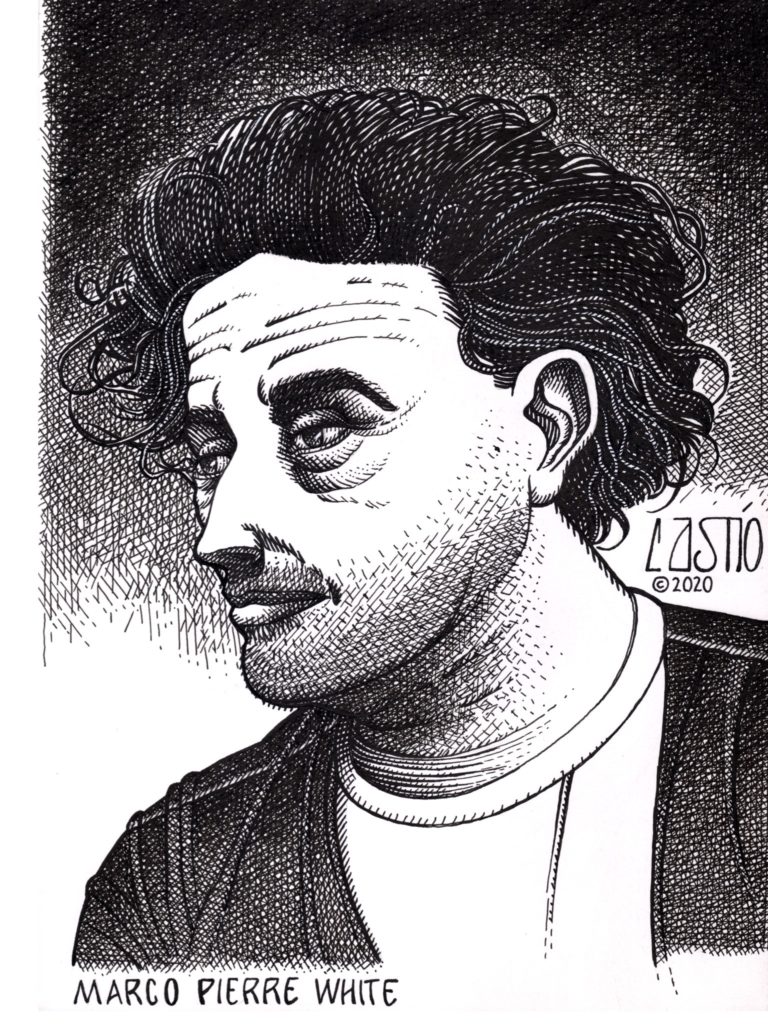 Marco Pierre White. 2020. Pen, ink, and gouache in sketchbook.
Everyday, somewhere in the world, there's someone who will spend another day of their life toiling away in anonymity, hell-bent on becoming the best at what they do. They're driven to make art by a creative urge that they were born with and have nurtured since childhood. Making art is all these people know to do; there is no plan B for them, no 401K, no trust fund; it's either make art or die. Despite the lack of any type of a safety net they continue undaunted down their chosen path. They're not  seeking approval or applause from anyone. A little money might be nice but, by and large, it's excellence that drives them. The path they're on is one that they've followed not for weeks or months, but probably for years and most likely for decades. For them, it all started with a dream, a belief, and a vision. From early on they knew they had the potential to be great and they were willing to chase that down and make it a reality no matter what. If any of this sounds familiar to you, then we are kindred spirits.
Being an artist in this century, or any century for that matter, is something that is grossly misunderstood by the majority of people who don't make art and have half-baked ideas about what art is. That's not a popular opinion, but it's true. Although I could continue ranting and raving endlessly on that particular topic, I'm not going to because it's not the reason that I'm writing this, despite the fact that it does play into what I'm going to talk about.
This post is about something completely different: it's about what some people refer to as living the life. In my youth, I started to rehearse to living the life and everything that would come along with it. From the age of five I knew that I wanted to be an artist who would live from work that would be recognized on a global level. That goal has always been crystal clear to me. I knew that I had it in me to be great and I also knew that I had the persistence and dedication to make that happen. Legendary British chef Marco Pierre White said the following while talking about how it felt to achieve 3 stars and 5 red knives and forks, the ultimate ranking in the prestigious Michelin Guide to restaurants, "Things don't happen overnight. You have to make the personal and emotional investment." He's absolutely right – you either give 100% of yourself or you will never achieve your goals. In a previous post, I spoke about playing the long game and how most people will never play it because the idea of spending years or decades perfecting a skill seems psychotic to them. There's no instant gratification in it. It's not an on demand thing. You can't buy it. It's something that takes years, often decades of tireless effort to achieve. There's no two ways about it. Oh, and if you're expecting any sort of adulation from the general public you can toss that idea right out the window. It's not going to happen. People only care about success after it happens to you not while you're working towards it. As soon as it happens, everybody wants to be your best friend, hang around you, and invite you places. Let's face it, people are effing pathetic.  
Doing this will never be easy. You have to stay strong and you have to be resilient, otherwise you can easily get thrown off your chosen path by all manner of foolishness. There's nothing wrong with wanting to be great at what you do, but you should understand that most people are not going to understand that. There's going to be lots of hurdles along the way and people are going to have a never ending list of why what you're doing is a bad idea. In addition to that, you will encounter the strange phenomenon of people wanting to keep you down at a certain level and not wanting to see you rise despite allegedly liking you. The sad truth is that some people just don't like watching others succeed. Do not doubt for a single minute that humans can be absolutely petty.
There's always going to be someone trying to trip you up and throw you off, but the one thing that you have to remember is that you're the person who decides who you are and what you are capable of. Being great begins with an inner belief and a vision. You can see the finish-line despite the fact that it's decades away and through sheer will, determination, and bloody-mindedness you reach it. The majority of the people you know will never see that finish line. You are chasing something that is invisible to them. If you're going to be great then you have to be that. Frank Lloyd Wright had some sage words when it came to this, "Early in life I had to choose between honest arrogance and hypocritical humility. I chose the former and have seen no reason to change." Quiet tenacity has worked well for me. No matter what has happened to me in my life, good or bad, I have continued on. If your belief is made up of a hard-wired self confidence, education, experience, and the fact that you've rabidly earned every bit of skill that you possess inch by inch then damn it, don't hide that. Proclaim yourself to be the best at what you do and rejoice in the fact that you have had the resilience to continue for years and decades while refining your skill to a high degree. There's always going to be those that hate the fact that you've been able to do this but, hey, that's their problem not yours. Comics artist and educator Jessica Abel had some kick-ass advice when speaking on this topic, "Be a poser. Be pretentious. Be ambitious. Be the thing you want to be." If you're going to live the life then live it to the maximum unconcerned about what anyone thinks or says and equally unconcerned with wanting attention.
As hackneyed as the saying life is short has become, it still holds true. I believe that in the end it all comes down to priorities. Those things that are deeply important to you will be at the very top of your priorities list without any excuses whatsoever. If the thing that you love to do has helped form the foundation upon which your life is built and helped shape you as a person, then that thing will automatically have the highest priority in your life. It's something that has deep personal meaning to you; it matters to you profoundly, and you loathe having it trivialized. 
Making art is all that and more to me. I've invested my whole life into what I do and I've worked hard to earn all the skill I've acquired. When I was a young boy I knew that I had the potential to be great. As time went on I understood that it would take time and unrelenting effort to achieve that – if I never gave up, that is. There was a time, not that long ago, where that could have happened. I could have thrown in the towel, called it a day, and stuck to my cubicle job in hopes of reaching 65 so I could start having fun. Fortunately, something like that could never happen to someone like me. I was born to be what I am. The sensibility and aptitude required to make art were clearly present in me at a very early age. I knew that art was my calling ever since I was a young boy and I have never ever doubted that.
At the age of 54 I'm pretty damn clear about who I am and what I'm about. There's no pretension in that statement, only a rabid self confidence. My patience has become non-existent for those that fail to understand me. I've spent far too much time putting up with people's bullshit over the years. Doubters, skinflints, and  second-rate mediocre hacks no longer have a place in my creative sphere. I am what I am through and through and I'm not going to pretend to be anything else than what I know myself to be. If you've had a similar experience and relate to these words, then celebrate all that you've achieved, be who you know yourself to be, and above all, live the life. 
P.S.
Always strive to the highest standard because the easiest thing to do in art is to be mediocre.

Be hard on yourself, push yourself. No one is going to push you harder than yourself because no cares about your work more than you do.

If you want to grow look and study the work of people that are better than you. In real life do the same, surround yourself with people that are better than you who will make you strive to be your best.

Stay away from people who have stupid half baked ideas about art Those type of people think that art is a free ride. Stay away from them or they'll drag you down to their mediocre level.

Surround yourself with people who value what you do and who don't expect things like discounts and free art. People who expect those things have no respect for your work; they're cheapskates who are trying to get something for nothing. Tell them to fuck right off.

It's best to be by yourself and strive to be the best then to be amongst a group of people who settle for mediocrity. 

Always remember that the cream always rises to the top. 

Read about the lives of artists that you admire and for a better understanding of their motives and for guidance. An artist who doesn't read is one dimensional and boring. 

Forget fame and fortune and concentrate on love of craft and creating great work. Love of craft cannot be bought. If you lose it your work will suffer.

Always be honest with yourself; never attempt to be something you're not. Not everyone is cut out to be an artist – that's not a popular opinion these days but who cares, it's true. Making art takes years of hard work and dedication. It's not something you buy, it's something you earn. If you're really cut out for it you'll know and if you're not you'll know that too. it's better to be honest than to be delusional.