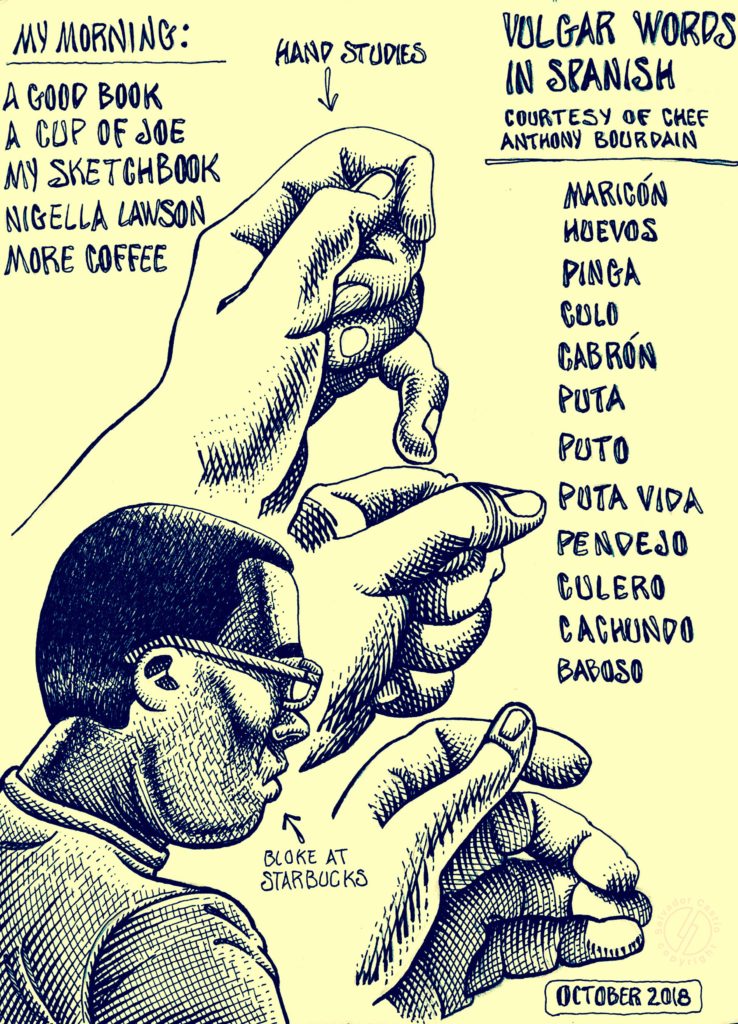 I started my first blog, Cubist Comix, in September 2008, which means my work has been online for a little more than a decade. Back then, blogging was fairly new, and sketch blogs were rare. I remember how confused I was by HTML — it was all Greek to me! Thankfully, my wife understood the basics of this foreign language and was able to help me set up many parts of my blog. Since then, keeping a sketchbook has become incredibly popular and many people are sharing their work on websites, blogs, and social media. Some of the work out there is good, but a majority of it is pedestrian, banal, and poorly executed. I continue to be proud of the quality of work that I insist upon for myself. I'm very hard on myself; I loath mediocrity and the lack of wanting to improve. I am also proud that while I maintain a social media presence, I have not abandoned my blog as many others seem to have done.
The past ten years have been full of changes for me and for my work. It should come as no surprise that my point of view regarding visual journaling and blogging has changed as well. For many years, most of my blog posts consisted of a drawing created during the previous week and the story behind its creation. Believe me, I've drawn my share of coffee swilling cafe dwellers over the past decade; it seems there's a never-ending supply! I loved these drawings and associated posts, but recently I have come to realize that they are just not enough any more. I have come to realize that I need to approach both my work and my posts in a way that is more filled with meaning.
When Twitter first started, people were literally tweeting about the most pedestrian things you can imagine. The novelty of doing that wore out lickety-split. Why? Because no one really cares that you're going to your kitchen to get a bagel – that's why. Sketchbooks are wonderful things, but ultimately they need to say something more profound about you beyond what you're going to eat or what the person sitting next to you looks like. I've always been of the opinion that after someone thumbs through the pages of your sketchbook, they should have a good idea about who you are and what you believe in, and the longer I keep a sketchbook, the more I see that this is the truth.
Maybe this approach to keeping a sketchbook and blogging about it isn't for everyone. After all, opening up and spewing your opinions takes cojones. It's not an easy thing to do, but it's something that's necessary if you're going to grow as an artist and as an individual. Whether you're a professional or hobbyist doesn't matter, what matters is the bravery to embrace change and put yourself, the raw unadulterated you, out there. This is why Barron Storey and Robert Crumb's sketchbooks will remain as examples for me to follow. Visual journaling has exploded over the past ten years and that's great, but it's full potential has yet to be realized. Much like with Twitter, soon folks will realize that fluff wears out its novelty right quick, and only that which has depth will survive.