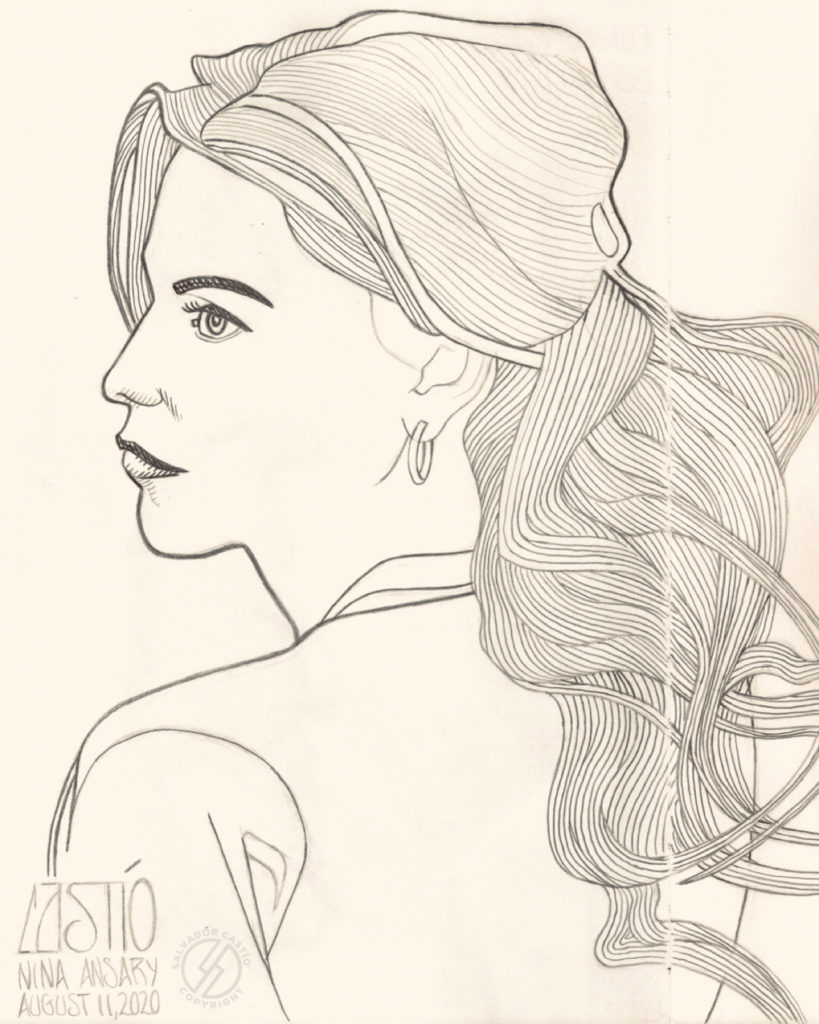 Dr. Nina Ansary. 2020. Pencil preliminary in sketchbook
Some weeks ago I lamented the anti-intellectualism that's running rampant in my beleaguered country. This week isn't any different; the flagrant and callous imbecility continues unabated on social media and it isn't going to stop. All the uneducated, misinformed wannabe epidemiologists and virologists spewing their opinions on social media were selfish assholes before all of this started and they'll continue being selfish assholes long after this is over and done with. That, dear friends, is the last you'll hear from me on this topic. I don't know about you but I have better things to do.
Truth be told the aforementioned situation actually has some value to offer If you look for it. In the grand scheme of things, the daily shitshow on social media is nothing more than a pathetic example of just how stupid and self-centered humans can be. In that sense, it's a complete and total waste of time, but if you dig beneath its bloated ego-laden surface, you'll find a nice little tidbit of wisdom: Life is short. Live your best life without compromise.
It's easy to get caught up in the anti-intellectual mire that is modern-day America, but that, dear friends, is a choice. Mental stimulation is always within arm's reach, if you truly desire to have it. You can either watch another mindless sitcom or you can choose to read or watch something informative. Books like Anthony Bourdain's classic culinary memoir, Kitchen Confidential offer profound understanding into the struggles and aspirations of a working chef. Documentaries like The Birth of the Cool, the recent Miles Davis documentary, are fantastic for giving you insight into the mind of a musical genius, and musicals like Hamilton expose you to the life of someone such as founding father Alexander Hamilton. The truth is that there are a plethora of things to choose from that will help stop brain rot. Choosing between a mindless sitcom or gameshow and Miles Davis is like choosing between a Big Mac or some gambas al ajillo. You get my point, right? Mental stimulation is out there, it's not hiding. If you want to continue growing as a person then the choice is yours. Evolving as a human being is part of living your best life. There's many facets to living your best life, and a lot of that falls to the choices that you make as an individual. You either continue to grow or you stagnate. It's all up to you.
As an artist, I'm very mindful of all this. Perhaps because of my profession this kind of thing is that much more important to me than it is for other folks. For me, being an artist and learning new things go hand in hand. It's because of this that I was able to go from being a kid from a humble background who read comic books by Jack Kirby to an art school graduate who counts people like Burne-Jones and Lord Leighton as influences.
At my age, my thirst for knowledge has not lessened; on the contrary, it has become even more insatiable. As I get older, my patience for conversations about mundane pedestrian things is getting shorter and shorter. I like to be around people who talk about ideas and about books they're reading, different cultures, music, art, etc. This is where I'm at and it's what I want.
These things are going to take on an even greater importance as time goes on. Art and culture inform and influence me as a person and artist. Hispanophile, Anglophile, Francophile – yes, all of the above. This is just the tip of the iceberg. That fact that I speak fluent Spanish opens me up to an additional world of enrichment. As a kid, I grew up with Charlie Chaplin, Laurel & Hardy, and the Three Stooges while also taking in the work of the equally brilliant Mario Moreno "Cantinflas," and Roberto Gómez Bolaños in all his various guises. Anyone who speaks another language fluently knows exactly what I'm talking about. All of this influences my interests, my tastes, and most importantly, my worldview. Growing as a person doesn't have an age limit. The only limits that exist are the ones you put on yourself. The world is too vast and too interesting to limit myself to one culture, one way of seeing things, so yeah, you can be pretty sure that when it comes down to it I'm always going to choose Miles Davis over over a sitcom.
Agribusiness cities aren't exactly cultural meccas, but if you're hungry enough you'll view that sort of situation as a challenge rather than a nail in the coffin. It's a choice you make. As an artist and individual it's important for me to continue learning about the world I live in. That means looking beyond the limited parameters of where I'm at. I refuse to stagnate in the all too familiar humdrum situation that could easily derail me at any given moment if I let it. Life is short and the world is too vast – go beyond the never ending monotony of everyday life and nourish yourself with the hidden gems that are out there waiting for you.
This week, I have chosen to show you a piece of work before it is fully worked out and completed. In this case, it's a pen and ink portrait of Dr. Nina Ansary that I'm currently working on. What you see here is a pencil preliminary from my sketchbook. It's close to being done but still needs some work. Dr. Ansary's features are very fine so they must be handled with the utmost finesse when drawing them. This is why I do a preliminary study beforehand. I need to be sure of what I'm going to be doing when I do the final piece so I work everything out before my pen ever touches the paper. In case you were curious, this is how art is made.
A special thanks to Dr. Ansary for graciously giving me permission to do this portrait.