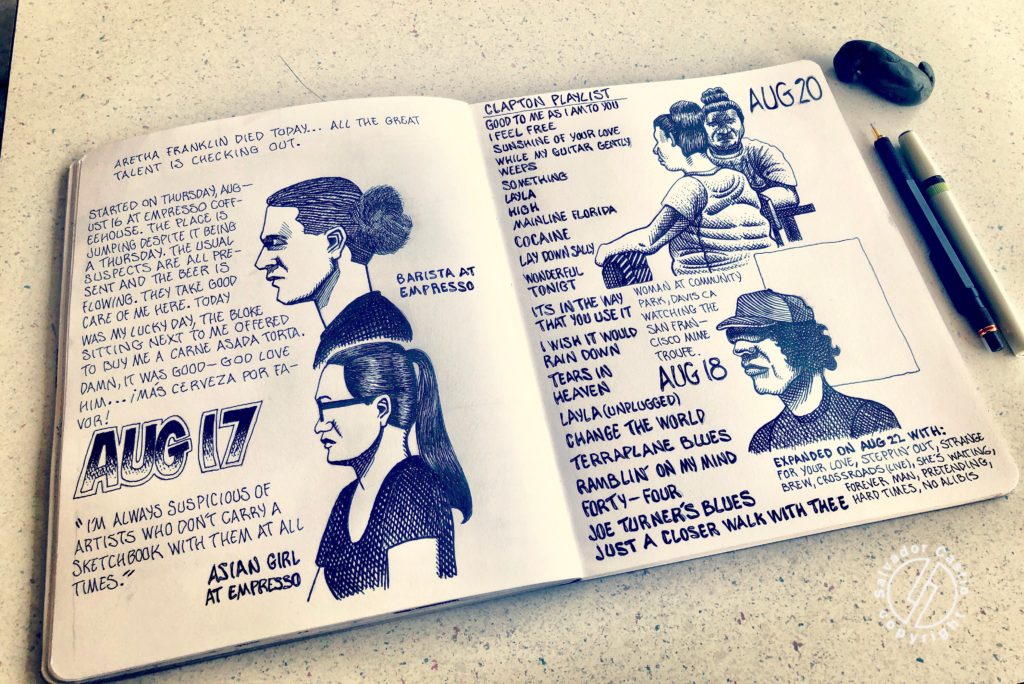 Another week of adventures, another journal spread. This is the metronomic pace by which I live my life. My days have become events that need to be chronicled and preserved no matter how grandiose or pedestrian they may be. Those events then go from being pages in my journal to becoming blog posts, social media posts, and ultimately who knows what — you're guess is as good as mine. Book editors out in the wide world, that's a big nudge to you.
This past week was good and I managed to get a good sketchbook spread out of it. Weather it's having a beer or two with friends, enjoying a free play in the park, watching a really good documentary on someone whose work I admire, or drawing unsuspecting victims at my local Starbucks , it's all about capturing moments that will never return. This past week was filled with lots of great music as you can tell from my Clapton Playlist. All those songs were flowing through my earbuds this week as I worked on my latest journal spread. Listening to music as I work is something that I've been doing for as long as I've been drawing; it truly is one of the most pleasurable things that one you can do with your time.
For those of you reading this post who keep a sketch-journal, make sure that you're capturing those all important moments in your own lives that come and go in a flash. Good or bad, it doesn't matter, put 'em down and give them a place to exist. Eventually, at some point, you'll look back and give thanks that you chronicled your daily life as it happened. Doing so will give you insight into your own life in a way no other medium can. Such is the magic of keeping a sketch-journal.