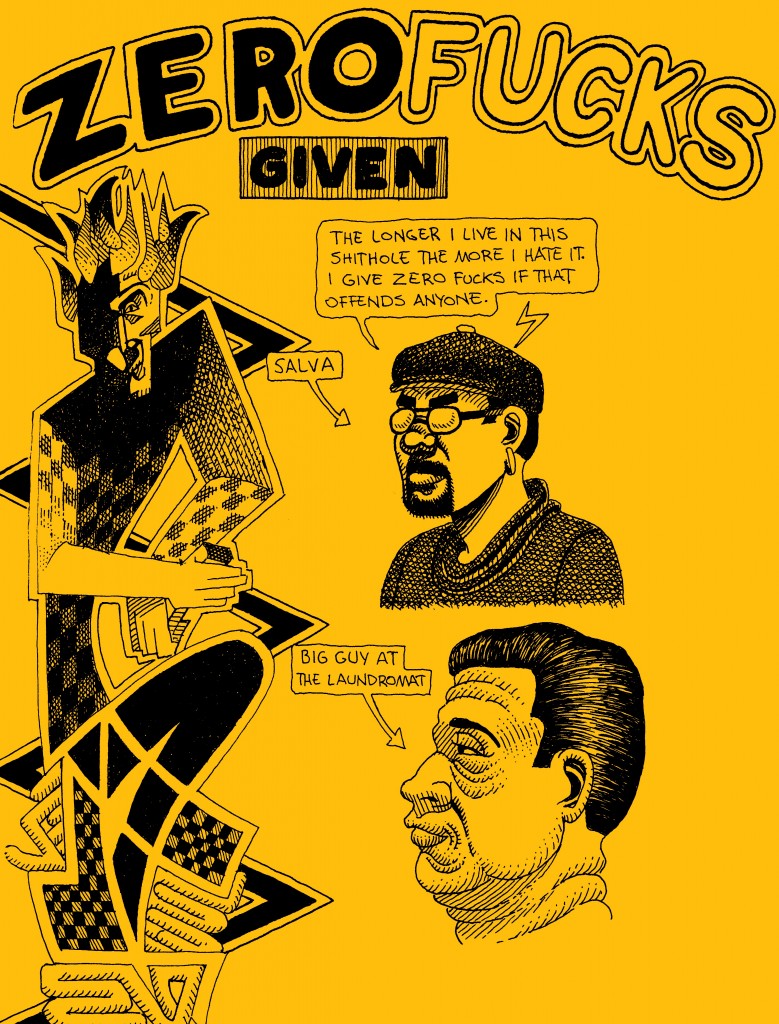 You never know what is going to Impact people. When I drew the page that you see here, I didn't think of anything other than expressing the angst that I was feeling on that particular day. That day, like most days, I walked to Empresso Coffeehouse, a favorite local café, and settled in to do some drawing in my sketchbook. There's normally a decent number of people at Empresso – not too little, not too many – so it's a good place to go and concentrate on whatever it is that you need to work on. When I'm there, I normally listen to music as I draw so I'm pretty much oblivious to what's going on around me. 
A couple of days after I had drawn this, I went back to do more drawing at Empresso; as I was waiting to order a drink Sergio, one of the baristas that works there, walked by and said, "Zero fucks given," with a smile on his face. I looked at him and smiled back. I thought, "How cool is that, he remembered." I had never thought about the fact that there's always a chance that something like this can happen; I mean think about it, I'm going to a public place and sitting while exposing images that, for the most part, are meant to be private. Yeah, I don't really like people peering over my shoulder as I work but It happens. Someone sees something, it strikes a chord, and bam, there you go, "Zero fucks given." Interesting how that works.
Almost a week later, I saw Sergio again as he took my drink order; as he was making my drink, he uttered in a low voice, "Zero Fucks." I smiled and asked him what was it about my slogan that he liked so much. He said, "It's so dope — zero fucks!" What could I say to that? Perhaps it may sound strange coming from an artist, but I've truly understood something here. As an image maker, I want people to remember what I do; more than that, I want my work to make people think. If I can do that, then I've done my job as an artist. I reckon that there isn't anything more satisfying then that for an artist. 
A couple of days later, I stopped and talked to Sergio as I was leaving. I told him that I was totally caught of guard by his reaction to my slogan. He said that it was something a lot of people could relate to — he said that it reminded him of the, "Have a nice day," slogan from the 80s. I told him that I could see his point. You just never know what will catch the public's eye — it's a totally random thing.
A week or so later, I went down to Empresso to draw for a while; as I approached to order my drink, Sergio took one look at me and said, "Zero Sal, zero!" I guess I was right, when you put down your thoughts and ideas without holding back, people will react. Lesson learned.