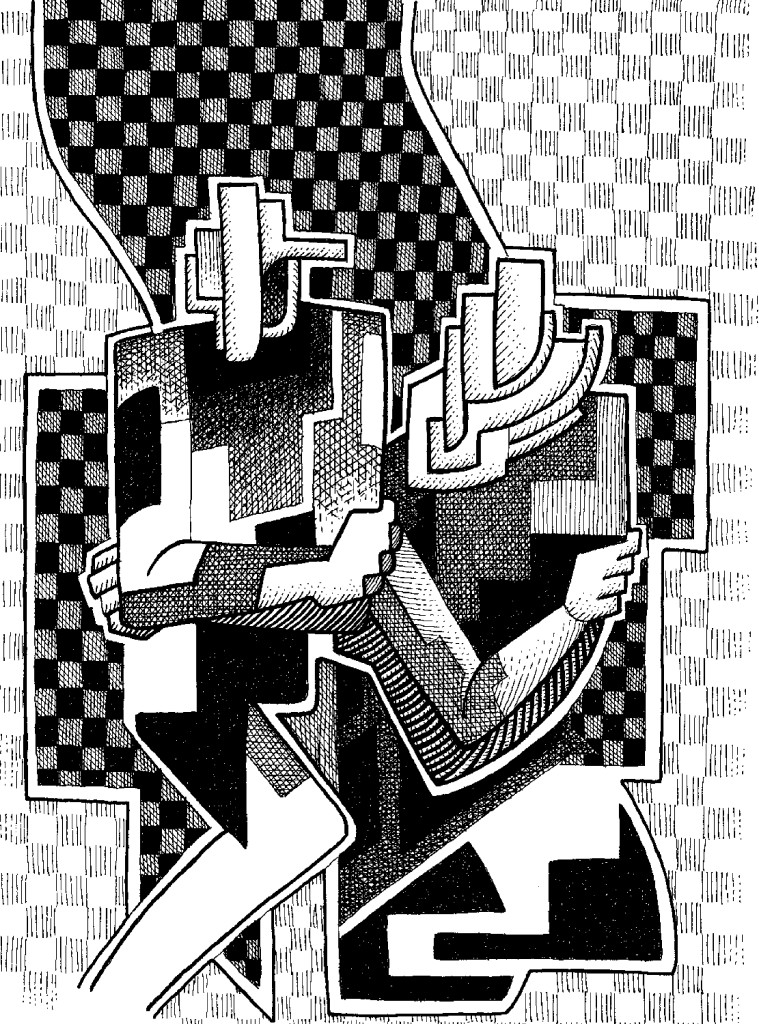 After a nice long break from blogging, I feel refreshed, energized, and ready to jump back into it. My break was good for me; it allowed me to reconnect with myself and things that are important to me, and it also allowed me to put things into perspective.
So, here I am. Most people who know me well know that I am hugely influenced by both American and European comic book art, especially French bande desinée. I get just as excited by seeing an original Robert Crumb or Dave Stevens as I do by seeing an original Jean Giraud, Philippe Druillet, or Enki Bilal. I love comic book art, but I also love Picasso, Burne-Jones, Lord Frederick Leighton, and Joaquín Sorolla too. As an artist, I must be able to express different things in different ways and still retain my own identity. Doing that is the trickiest thing for any artist to do but, ultimately, you have to deal with it; otherwise you're doomed to becoming boring and one dimensional. I'm not too impressed with artists who are limited in their outlook — it's like talking to someone who only talks about one culture or one interest and nothing else. I'm even less impressed with artists who put creativity over craft. The quick, slap-dash style doesn't mean crap unless you're a strong and competent draftsman. Trying to be cute and clever is even worse. Learn to draw first, then get creative. People want skill for free today. They don't want to work for it, they want to acquire it by an act of magic. Get a clue folks. It doesn't work that way. Bust your ass, master your craft, then come and talk to me about it.  
Retaining your identity despite stylistic changes is one of two huge challenges an artist faces. The second, and more important, is being yourself through and through no matter what. Maturity and experience have taught me that it's not about what school you went to, or if you're self taught, or if you have a drop of fame, or if you have a million followers on social media or whatever. It isn't about any of those things — it's all about the work. My credo is and always will be Draftsmanship is craftsmanship. If you don't draw well, then you simply cannot move forward. You can't break the rules when you don't know them. It's all about the work. When I was 19 years old, I was accepted to one of the best art schools in the world and I'm also an ex-student of Barron Storey, an illustrator who's a noted figure in the history of American illustration and whose students have influenced a generation of comics artists, BUT it's not about any of that. Someone can brag all they want about what they do, who they know, or where they studied, but that won't hide anything from a trained and experienced eye. In less eloquent words, at this stage in the game I'm not easily impressed and I can see right through people's bullshit. If I come off as arrogant because of this, then so be it. I've been drawing since the age of five and I've been a professional since the age of 25, so it is what it is; take it or leave it. Beautiful, well-crafted work will always take precedence over ego.  
The drawing that adorns this post is something that started as a smaller doodle in my current sketchbook. My love of Picasso's work is pretty clear here. As I often do, I scanned the page with the doodle on it and posted it to my social media accounts. Not long after I posted my page, Michael Kalman, co-founder of Stallman & Birn sketchbooks (my faves), came along on Twitter and kindly left me a very encouraging comment. His comment inspired me to expand my original doodle idea into a bigger drawing. I feel as comfortable working in this style as I do when I draw a portrait of someone, when I do a comic style drawing in brush and ink, or when I paint in watercolor — it's the same thing to me; all those things are part who I am. I'm fortunate that I can easily do different things equally well; t's something that not everyone can do. Switching between different approaches is something that I've always been able to do, but not something that I do too often. That is going to change.
In closing I'd like to inform all of my dear readers that I reached an important Twitter milestone a couple of days ago: 500 followers! I've been on Twitter for quite some time, but the majority of my new followers have come in the last 2 years – 430 followers in that time. I am so grateful to all the people from around the globe who follow me here and on social media. THANK YOU to each and every one of you for helping me reach the big 5-0-0 on Twitter. I greatly appreciate your continued support.