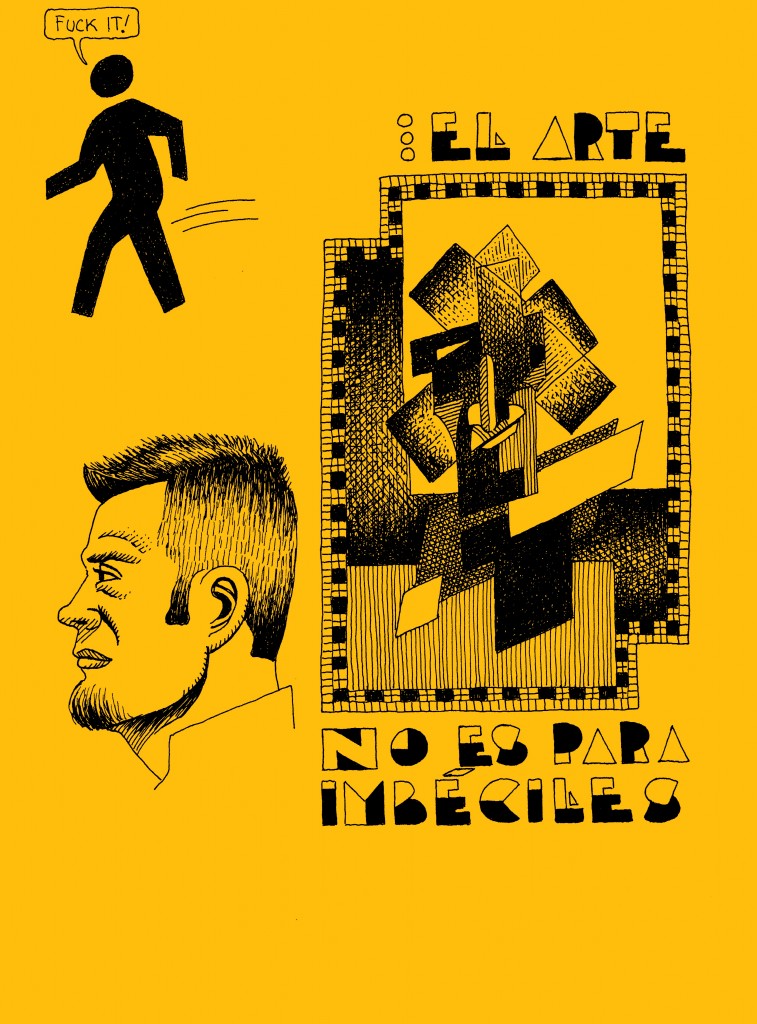 Sometimes, an idea and an opinion come together in a spontaneous and very satisfying way. That's basically what happened when I drew this page. I wanted to play around and experiment and see what would come of that, so I started with no preconceived idea in mind. I used to use this approach a lot years ago — Usually, I was pleasantly surprised with the results. 
I started with a shape and that shape led to another and another – you get the idea. Despite the fact that I drew this directly in ink, it still took me a while to finish. As you might guess, adding the crosshatching and building up the shading takes me a while. I've been drawing this way for 20 years; it stems from my love of drawing in ink that began in my teens and the satisfying feeling of repetitiously drawing line after line. Maybe it's some sort of OCD thing, I'm not sure. What I do know is that it's very gratifying to me. 
As I got closer to finishing my cubist-inspired image, I started to feel that it needed some text to accompany it. I started to think what I could make a statement about. You know it didn't take me long to come up with an answer. As an artist, I have some very definite ideas when it comes to art. Sometimes, I come to my wit's end with people's simplistic opinions about art and artists. Therefore, I decided that a straightforward, no holds barred, statement is what was needed here. The statement came fairly quickly: "El arte no es para imbéciles." Yes, it's true, sometimes I really feel that art is not for imbeciles. Is it ever? Does that sound elitist? Maybe it does — if it does, then so be it. I offer no apologies for this. 
Art isn't supposed to always be beautiful; if you view art with such a narrow point of view, then you fail to understand what art is all about. That's like thinking that life is always good or bad — we all know that it isn't either of those things all the time. Things are getting interesting in what i'm doing and I'm liking it. This whole other side of me is spilling onto the page and that's bringing forth all sorts of ideas. Watch out, here I come!