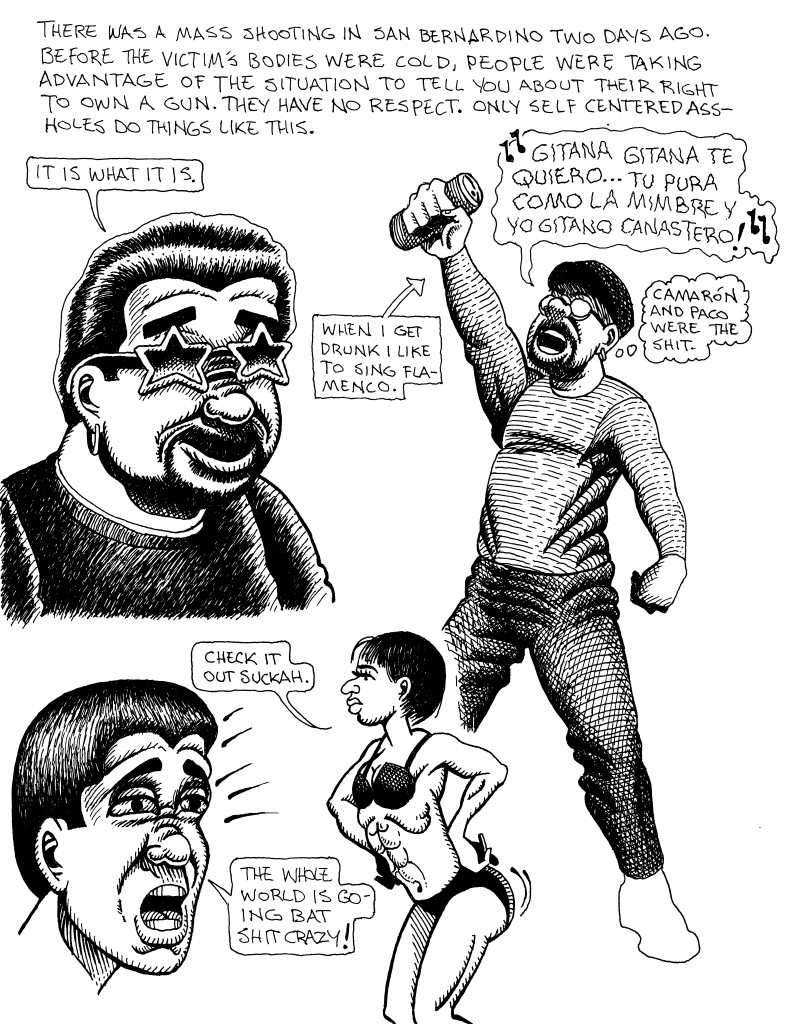 After all the holiday craziness, I'm finally getting around to scanning the dozen new pages that I've drawn since December. This one was started in December around the time of the horrific shootings in San Bernardino. Terrorism is a cancer that tears asunder the lives of innocent people. Because of the age that we're living in, we all have a front row seat to the carnage as it happens. It's only minutes after the fact before we start to hear the gruesome details blow by blow. Little by little we become desensitized to the pain of those affected. I saw that happen with the events in both Paris and San Bernardino; some people couldn't wait to politicize what was happening. They had to tell you about their right to own a gun. In that moment, when loved ones are falling apart because they're hearing the news about their husbands, wives, sons, daughters, aunts, uncles, cousins, friends, etc, people engage in this disrespectful act. Is this what we've come to as a society? We're so gung ho about our right to own a gun that we don't care if we disrespect the recently killed and their families? Those people that engage in this abhorrent behavior fail to understand one thing: no one gives a fuck about your right to own a gun in that moment when innocent lives have just been lost. Believe me, I'm all for sensible gun regulation but this sort of behavior has nothing to do with that. It's simply people choosing and not caring about being disrespectful at the worst possible moment. Learn some respect for God's sake. 
On the lighter side, did you know that I like singing flamenco when I'm tipsy and happy? It's amazing what a few bottles of Newcastle brown or, in this case, sangria can do! Seriously though, I adore flamenco and its culture: the singing, the music, the dance, everything. Andalucía is my spiritual home. It resonates deep within me like no other culture. Perhaps it's because of my own familial ties to Spain or maybe it's just something that was meant to be. Whichever it is, it's a feeling that lives inside me. Hearing Camarón de La Isla and Paco de Lucia play together is a sublime pleasure for me. It's like listening to Jimmy Page and Robert Plant or Ozzy Osbourne and Randy Rhoads. It's an unequaled aural experience. 
I'm slowly but surely getting back into my rhythm of regular weekly posts and with a soon to be total of twelve freshly scanned pages, I have no excuse for not keeping on schedule. I'm enjoying the new sketchbook so far — I've got some interesting ideas that I'd like to explore so keep an eye out for some interesting graphic experimentation that'll be dropping soon. And remember, draftsmanship is craftsmanship.