1966
– Salvador Castío is born on February 9 in Martinez, California.
1971
– Begins to draw at the urging of his grandfather. The comic books that he collects as a child will prove to be a lifelong influence on Salvador's work.
1980
– Begins first formal art classes. Studies for three months with artist  John Sierra in Fresno, California.
– Contacted in December by Art Instruction Schools after secretly sending in a sample to be evaluated in their monthly art contest. His mother is ecstatic. 
1981
– Begins correspondence course with Art Instruction Schools.
– Starts to ink with pen and brush for the first time.
– Discovers European comics and the work of artists Moebius, Philippe Druillet, Enki Bilal, Caza, Milo Manara, and Jeronaton; the work of Druillet and Moebius will have a big impact on his views of comic art.
1982
– Rediscovers the work of Barry Windsor-Smith through the popular illustration monograph, The Studio. This will lead him to discover the Pre-Raphaelites and the work of celebrated Art Nouveau painter, Alphonse Mucha.
– The comics work of artist's Wallace Wood and Dave Stevens also proves to be influential to Salvador during this time.   
1983
– Completes correspondence course with Art Instruction Schools.
– Works as staff artist on the Fresno High School yearbook, The Owl.
– Spends all his free time developing his comics work – especially his inking.
1984
– Attends the San Diego Comics-Con where he shows his work for the first time.
– Begins to think about going to Art School.
– Starts to keep a sketchbook for the first time.
– His grandfather passes away at the age of 80. His passing is a great loss to Salvador.
1985
– Applies to Otis Art Institute of Parsons School of Design in Los Angeles and is accepted. Meets School of Visual Arts founder Burne Hogarth prior to entering Parsons and he encourages him to continue developing his work especially his inking style.
– Leaves Otis/Parsons after less than one semester. Returns to Fresno and begins to think of his next step. His friend, artist Kevin Evans, encourages him to apply to the Academy of Art College in San Francisco. He applies and is accepted.
 1986
– Moves to San Francisco and begins studies at the Academy of Art College.
– He lives on the campus of the University of San Francisco where his work is published in USF's newspaper, The Foghorn and in the school's literary magazine, The Ignation.
– Discovers The music of Kate Bush. Her music will have a big influence on Salvador's ideas towards art.
 1987
– Begins his second year at the Academy of Art College. He begins to lose interest in superhero comics. This loss of interest is further fueled by his rediscovery of the work of French comics artist, Moebius.
– Immerses himself in the vast cultural landscape of San Francisco. His world view begins to expand greatly. Salvador considers this year to be personally very significant.
1988
– His grandmother passes away at the age of 75. In her memory, he vows to explore and expand his knowledge of Spain's culture and customs.
– Moves to an apartment on Anza Street in San Francisco's Richmond District.
1989
– Completes his third year at The Academy of Art College. Attends the San Diego Comic-Con for the second time where he, once again, shows his work; he also meets French comics legend, Moebius at the convention. Starts to focuses his attention on learning how to paint in watercolor. He also continues drawing comics.
– Discovers the writing of Charlotte Joko Beck and develops an interest in Zen Buddhism.
 1990
– Moves into an in-law apartment on 38th Avenue in the outer Richmond District.
– Begins his 5th and final year at the Academy of Art College. He is determined to make up for lost time and make serious progress in his work.
– Starts to read Picasso: Creator and Destroyer by Arianna Huffington. It will be his first exposure to Picasso's life. It leaves a lasting impression on Salvador and he decides to learn more about the life of Pablo Picasso. He becomes interested in the bohemian life of early 20th Century Paris.
– Sees the film Henry & June based on the lives of Henry Miller and Anaïs Nin; this fuels his interest in early 20th Century Paris.
– Studies with influential illustrator Barron Storey and takes part in his class From the Artist's Sketchbook to the Graphic Novel. The class will prove to be a revelation not only in regards to Salvador's ideas towards comics but also on the importance of keeping a sketchbook journal where work is developed through experimentation and thoughts and ideas are also preserved. It is here that the seeds for sketchbook storytelling are first planted.

 1991
– Graduates from the Academy of Art College.
 1992
– Attends the San Diego Comic-Con for the third time. Shows his work to various publishers who express a strong interest.
– Work published in Grunge Comix, an alternative comic edited by a friend who was part of the illustration class that he took with Barron Storey at the Academy of Art.
– He begins to tire of mainstream comics and their slick approach; this leads him to discover the work of Underground Comix pioneer, Robert Crumb. He finds Crumb's uninhibited and personal approach to be a respite from the hackneyed world of mainstream comics.
– Begins to develop an interest in flamenco and delta blues.
  1993
– Continues to contribute work to Grunge Comix.
– Fine art publisher Glimmer Graphics helps to distribute his first signed and numbered limited edition print, Raven. This print is distributed in the United States, Canada, and England.
1994
– Goes to The San Diego Comic-Con for the fourth time to show his work. Begins to wonder if mainstream comics are the place for him. Sends out a printed portfolio to various publishers upon his return from Comic Con. After months of waiting he receives form letters; he begins to develop a dislike for the practices of the comics industry
– Begins to read the work of author Carlos Castaneda.
– Discovers the sketchbook work of Robert Crumb; Salvador considers Crumb's sketchbooks, along with those of Barron Storey, to be the foremost example of sketchbook journaling. Their output and innovation prove to be a great influence on Salvador.
– Sells his first painting for a thousand dollars.
 1995
– Attends the San Diego Comic-Con and starts to feel seriously disillusioned with the comics industry. He begins to think of devoting himself solely to drawing and painting.
– Begins to keep a sketchbook on a regular basis for the first time since 1993. He will continue to keep a sketchbook on a regular basis from this point onward.

– Sees the documentary Crumb and sees that comics can also be Fine Art. This plants seeds in his mind that will blossom a decade later.
– Discovers the music of delta blues players Robert Johnson and Charley Patton.
 1996
– Participates in his first exhibition, La Mujer and is interviewed for the first time in the Spanish language newspaper, El Latinoamericano.
– Begins to focus more time on drawing and painting and less time on comic book work.
1997
– Has first exhibition of his work.
– Continues to spend his time focusing on drawing and painting.
– Discovers that a variation of his last name exists and begins to use Castío as his nom de plume.
1998
– Attends the San Diego Comic-Con for the last time and finally decides that mainstream comics are not the place for his work; he decides to take a break from pursuing comics and reevaluate his ideas towards them. He focuses all his attention on drawing and painting.

– His father passes away in December. His father's passing will be the beginning of a decade full of challenge and change for Salvador. This will impact his work greatly and force him to come to grips with his views on life and art.
 2000
– Goes to Europe for the first time to show a friend designs for a proposed Café/ bookstore that she plans to open in Central London. He visits Tate Britain and sees many works by the Pre-Raphaelites whom he has admired since he was 16. He also goes to the newly opened Tate Modern.
 2001
– Starts thinking about establishing a website.
– Discovers the work of flamenco performers Camarón de La Isla, Paco de Lucia, Niña Pastori, and Montse Cortes. His interest in Spain's culture continues to grow.

2003
– Travels to Mexico City and visits Frida Kahlo's famous Caza Azul in the suburb of Coyacan; He also sees Diego Rivera's murals at the Presidential Palace in the city's famed town square, El Zocalo.
– Upon his return, his mother's health begins to seriously decline and he is forced to quit all finished work in order to devote his time to caring for her. Nearly seven years will go by before Salvador is able to return to producing finished work. He begins to use his sketchbook as an outlet.
2004
– His mother is permanently hospitalized due to complications arising from rheumatoid arthritis. He is forced to take a nine to five job to keep things afloat.
– Drawing in his sketchbook and music become his outlet during this very trying time.
 2005
– His mother passes away. Things start to spiral downward and he veers from his path. His sketchbook is his only connection to art. His mother's death is a huge loss for Salvador. He makes a promise to himself that he will succeed in his goals in her honor.
– He moves in with his Aunt and Uncle and begins the long and difficult process of grieving.
– He considers his day job to be a total waste of his time and talent. He begins to devise a plan that will get him out of his mind-numbing position and back to making art full-time. He decides to keep the late hours and lifestyle that he's always kept despite his irrelevant job. Some days, he goes to work on just 4 hours of sleep.

 2006
– He begins to work as an interpreter; this will give him the opportunity to slowly start taking action on his plan of returning to art full-time.

– He moves out of his Aunt and Uncle's house and starts to take steps towards freeing himself from his day job.

– Grieving along with economic struggles challenge Salvador in a way that he's never been challenged before. He refuses to give in to this and let it derail his plans. 
2007
– Returns to active drawing; he considers this an important step in his plan to free himself from his day job and return to making art full-time.
– In August he meets his future wife, Allyce Cadwell. By the end of the year they will start living together and things will begin to change and progress towards Salvador's goal of making art full-time.
2008
– Marries Allyce Cadwell at Crissy Field in San Francisco.
– Begins his first blog, Cubist Comix, in September.
– Begins working a reduced work schedule in order to devote more time to art.
– He begins to write a graphic novel that will chronicle the experience that he went through while caring for his mother.
– Attends the exhibition Frida Kahlo at San Francisco's Museum of Modern Art.

2009
– Begins second Blog under his nom de plume, Salvador Castío. He begins to think about setting a date for permanently leaving his day job.

– Returns to Los Angeles for the first time since 1985 and attends the Genesis exhibition by R Crumb at the Hammer Museum at UCLA.
2010
– Decides once and for all to quit his nine to five job and return to making art full-time. Takes a period of time to reflect upon his future plans and determines that his only option is success and that failure is unacceptable.
– Develops an interest in leading a healthier lifestyle overall.
– Meets German photographer Manuela Kohl via Fickr and produces drawings as part of a promotion for an exhibition in her hometown in Germany. He is interviewed and the interview is published in German on Emkeyphoto.com.
– After five years he feels that he is has finally reached the end of his grieving period. At this time he has an epiphany and sees that he needs to make changes in order to proceed onward with his plans.
2011
– Attends the exhibition Picasso: Masterpieces From The Musée National Picasso, Paris at San Francisco's de Young Museum. It's his first big exposure to Picasso's oeuvre. 
– His official website, salvadorcastio.com goes online in September.
– After a visit to Los Angeles for the Holidays he has a second epiphany; this time, he resolves to make the significant changes that are needed in order to reach his goals. He feels that he's come full circle and views the coming year as one full of creativity and productivity.
2012
– Begins work on a graphic novel that will detail the deep and emotional experience of caring for his mother, the courageous battle that she fought, and how her loss has affected his life since her passing. The material is very personal and therefore will be worked on without the pressure of a set deadline. This will be the first time that Salvador will work on a sequential narrative since 1998.
Begins work on a striking series of portraits of artistic luminaries from the fabled Belle Époch. These drawings allow Salvador the opportunity to return to working in brush and ink, a skill that Salvador honed in his teens when he would spend upwards of 10 hours a day refining his inking technique. Prior to this series of drawings, Salvador had not worked in brush and ink in more than a decade. This set of drawings will begin to propagate the belief held by some that his work is fine art in black and white.
2013
– Continues work on his graphic novel and finds the experience to be an overwhelming one. Re- experiencing and chronicling the events that lead to the writing of his story prove to be quite a challenge for the artist. The loss of his mother is something that the artist confronted and dealt with over a number of years; the story is a deeply moving and personal account that the artist will work on until he is fully satisfied with the results.
– Adds additional portraits to his Belle Époque series that further exhibit his mastery of rendering in brush and ink.
2016
– After much thought and reflection, Salvador decides that he must move in a different and more personal direction. No longer content with the approach that he had taken over the past number of years in his work, he decides that the time has come to reconnect with his illustration and fine art roots and begin to push the boundaries of his own standards. In doing so, this will bring significant and important changes to all of the artist's future work. Ultimately, this change will provide a more accurate representation of the artist's intent, personality, and work.
2017
– Adds four stunning new pieces to his Belle Époque series of black and white ink portraits, and with that begins to near the halfway point on the project.
– In February, he meets designer Jocelyn Condé; a variety of topics are discussed and Jocelyn invites Salvador to be a guest on her radio show, Breaking Barriers. 
– In June, Salvador is the special guest on Breaking Barriers where he is interviewed by Jocelyn Condé about his life and work. 
– Plans are made to organize a showing of some of the portraits from the Belle Époque series later in the year. This is will be the first public showing of this series of drawings. 
– In addition to working on the Belle Époque series this year, Salvador also plans to work on projects that will display his fine art influences much more prominently. Amongst those projects is a series of drawings of models and muses from The Pre-Raphaelite Brotherhood.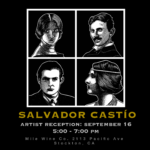 – The show, "Salvador Castío," takes place between September 7, and October 5 at Mile Wine Co in Stockton, California. Twelve original drawings from Salvador's Belle Époque series are exhibited for the first time to the public; the show is very well received, and has an outstanding attendance on the day of its innagural reception. The show is lauded not only for the caliber of the art on display, but also for the show's presentation standards as well.