Things have not changed.
Even after all this time, making art is still a thrill; the creative flame burns more intensely than ever, and I continue to be susceptible to that spontaneous surge of inspiration that will keep me up drawing all night. Drawing remains a complete pleasure for me. Being the best at what I do still drives me relentlessly, and I continue to expect the best from myself. I'm as hungry and cocky as ever, and I'm still hell-bent on achieving the remainder of my goals. As I write this, I remain on the path I chose for myself all those years ago. In the beginning, I wanted to go to art school, I wanted to become a professional artist, and I wanted to achieve an exceptional level of skill. Over the past thirty-five years, I have chased these goals ceaselessly. There has never been a Plan B because failure has never been an option. I went to art school, I became a professional artist, and I have achieved an exceptional level of skill, but I haven't finished yet; there's still more to accomplish – a lot more.
I have been blogging about my daily exploits since 2008 when art blogs were all the rage. At the time, people like France Belleville-Van Stone and Andrea Joseph were leading the pack and setting a standard through their art blogs. I was the new kid on the block. In the beginning, writing about my sketchbook musings seemed like a good way of giving people an idea about what I experience daily as an artist, so I started my first blog, Cubist Comix. Initially, I enjoyed the whole "this is what I drew today in my sketchbook" aspect, but as time went on, I began to feel like something was missing; I felt like I wasn't telling the whole story. I was posting regularly, but I didn't feel like I was saying much about being a working professional. By 2010 it became apparent to me that I needed a new space where I could write more authentically about my day-to-day adventures in the creative trenches.
I said goodbye to Cubist Comix and created my eponymously-named second blog, Salvador Castío. That blog was also short-lived. It didn't take long to realize that it wouldn't satisfy my urge to have space where I could write more authentically and a place where I could house all of my ongoing work. This unfulfilled yearning led me to create my website, salvadorcastio.com – my home on the internet for the past decade. Several years would go by before I found my authentic voice and developed a vision of what I wanted for myself. Things began to change in earnest by 2016; by then, it was clear to me that the direction of this blog had to change. Giving people a more accurate view of what I do requires a very different approach.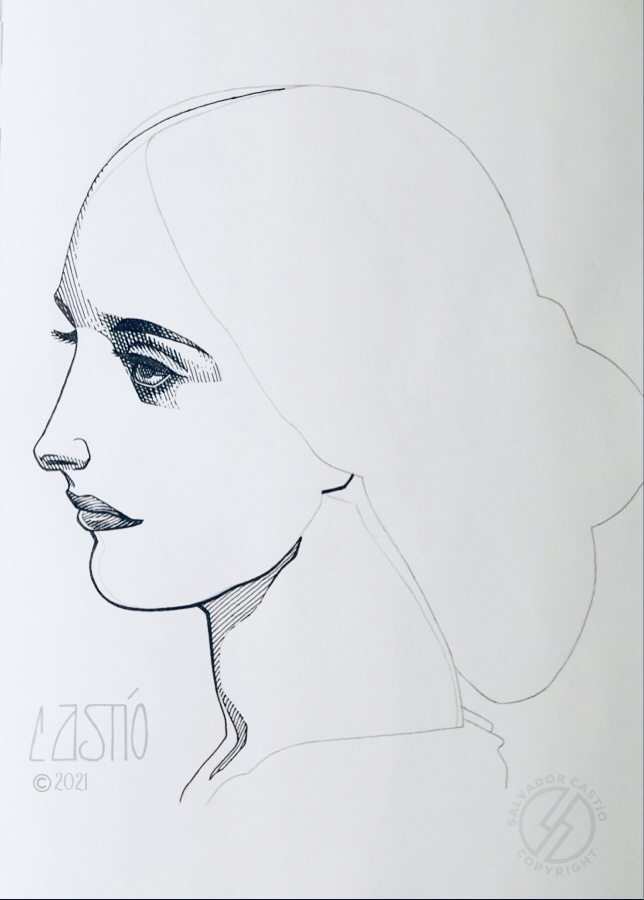 In late 2018 I began to incorporate more meaningful and diverse subject matter into my blog posts. Along with anecdotes about my daily exploits, my worldview must also be present in what I write to give you a complete image of my life as an artist. It's easy to overlook what is going on around us when we're so focused on our own story. Ana Kriégle was murdered outside Dublin in 2018 by two teenage boys who lured her to a remote location via social media. She was fourteen years old; her name is important, and you need to know it. There are many things and people in the world that are significant and whose stories deserve to be known. In 2019, for the better part of six months, I heard the anguished cries of an older woman who was living in a care center behind my house. Hearing her cry out every day was unnerving and heartbreaking. I could only imagine the mental hell that she was experiencing in her anguish. One day, the screams stopped, and I never heard them again. The silence was deafening. Her story deserves attention. These are the types of things that matter to me. They're the things that will give you a more nuanced understanding of what I do and who I am as a person.
The day-to-day routine of a professional artist is something largely unknown to the general public. It's entirely different from what most people imagine it to be. I don't spend my days painting happy little trees for a living; I'll leave that to the Bob Ross's of the world. The idea that I'm always happy when I make art is grossly erroneous. I experience occasional moments of great joy, but those moments are certainly not a daily occurrence. The only people who understand this are my fellow professionals who, like me, have been at it for decades. This life isn't for everyone — there is no instant gratification when you play the long game. There are no free rides when it comes to making art professionally. You either put in the work, or you don't.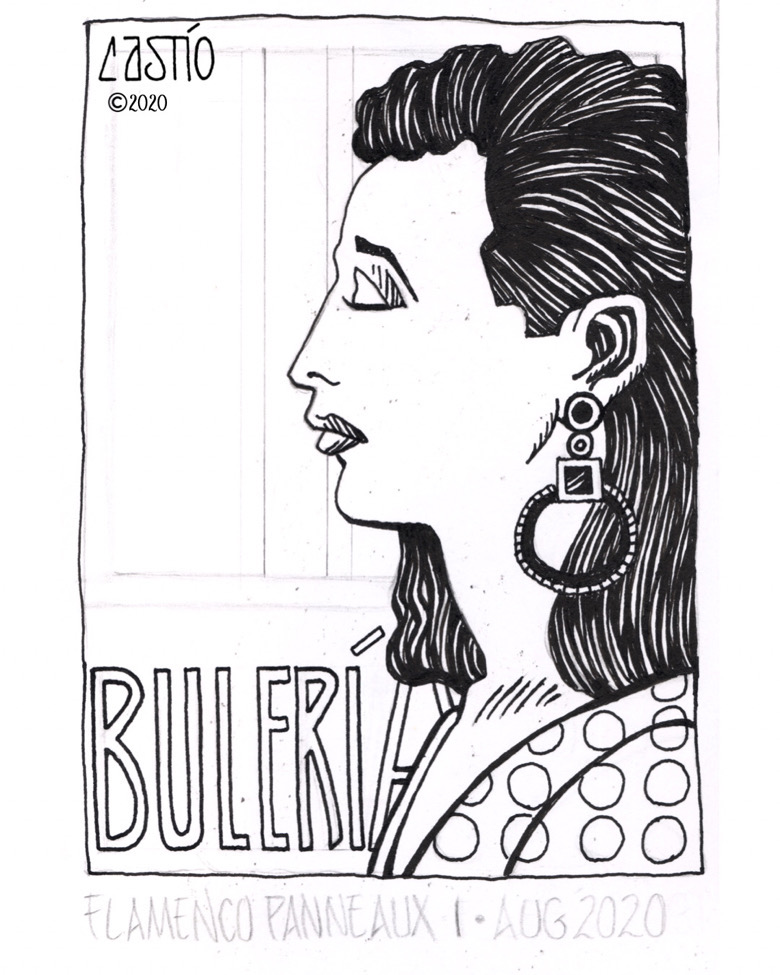 Over the last three-plus decades, all sorts of things have happened to me. You may be wondering what some of those things might be, so I'll happily provide you with a few juicy tidbits that you can look forward to in future posts. I'll tell you stories of people approaching me about making me famous, and I'll share art school exploits about me and The Night Stalker in Los Angeles; if that isn't enough, I'll also tell you about being in London to show menu designs in the early 2000s during the mad cow outbreak. Finally, I'll address some of the brain-numbing questions that people continue to ask me. All these things are infinitely more interesting to write about than confessional self-portraits or drawings of coffee-swilling patrons.
Let's start with some of those brain-numbing questions about me and my work, shall we?
"Have you been working on your art?"
No, Karen. It's easier for me to hire a team of drunken monkeys to fling paint at blank canvases than to develop actual skill.
"Have you been selling work?"
Kyle, if you were an actual supporter of the arts, you wouldn't have to ask me this.
And finally, the mother of all questions –
"Do you still draw?"
You know Joyce, I feel for you, I do. It must be hard.
These are the sorts of things that have driven me to write more honestly about my life as an artist. I can't make this stuff up, and I refuse to sugarcoat it. It's these types of things that will give you, dear reader, an insight into what goes into making art full time that's far more profound than sketches of half-eaten sandwiches.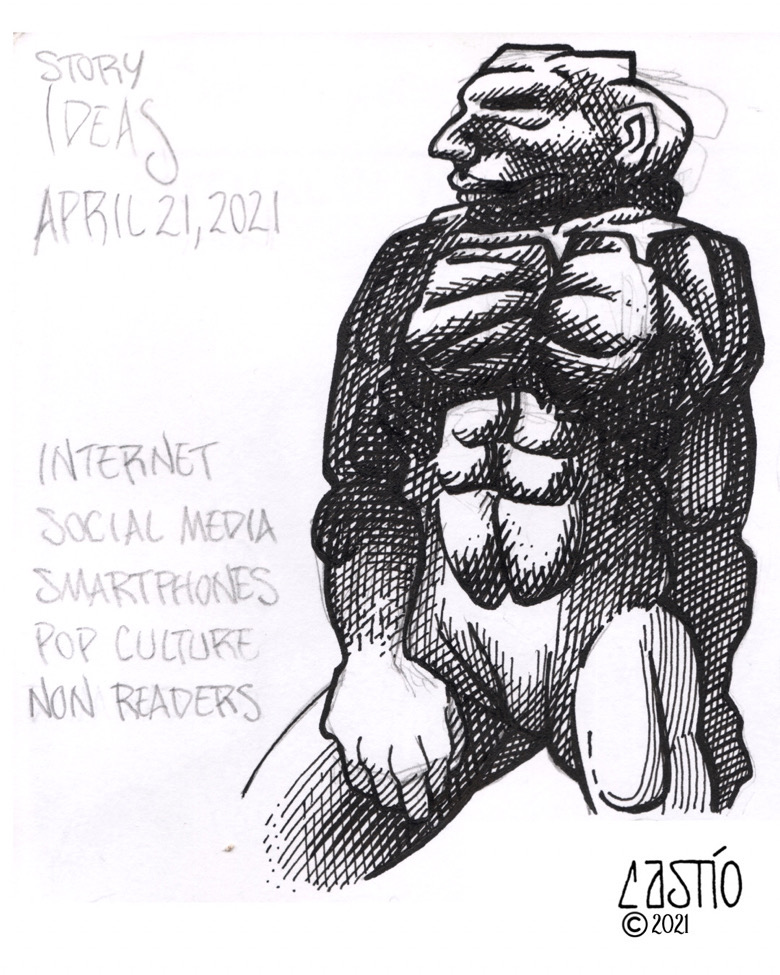 My exploits are not unique. All working professionals go through similar things in one way or another. We're all brothers in arms with individual stories decades in the making. It's this that drives me to want to write; it's what I know, and it's the life that I've lived. There's no hyperbole; there's only my truth. A truth formed over more than thirty-five years of trials and tribulations, ups and downs, triumphs, failures, heartbreaking loss, and anything and everything you can imagine along the way.
As I move forward, this blog is going to reflect all these things and more. I will share down-and-dirty anecdotes of five hundred dollar hand-made watercolor brushes along with lurid tales of dried-out gouache, cheap crappy kneaded erasers, and the clueless general public. Along with all this, I will also happily tell you why supplies from Michaels and Aaron Brothers suck and how to hang an exhibition properly. I shall pull no punches nor feign anything. Please join me – the best is yet to come.
Notes about the images in this post:
Maria Aguado, Duchess of Montmorency (After Franz Winterhalter). 2021. Study. Pencil in sketchbook. A study for a drawing that needs to be enlarged and have more details added before being drawn in pen and ink.
Flamenco (Bulería). Idea for panneaux. 2020. Pencil, pen, and ink in sketchbook. The first in a series of decorative panneaux based on various flamenco styles. This is but a start; it's going to require many many hours of solid work before this idea can crystalize and come to fruition.
The Non-Noetic Beast. 2021. Graphic story idea. Pencil, pen, ink, in sketchbook. An idea for a graphic story that will address the anti-intellectual atitude that has been unleashed upon the world via the internet, social media, and smartphones. We've created our own Frankenstein monster and now we have to deal with it.