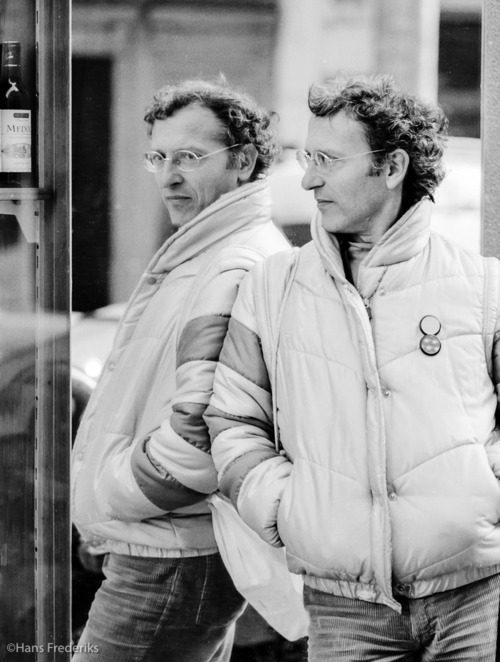 Photo © Hans Frederiks
In 1987, comics journalist Kim Thompson conducted an in depth interview with French comics legend Jean "Moebius" Giraud; in his introduction he wrote, "No cartoonist since Robert Crumb has had an impact greater than Jean (Moebius) Giraud. Like Crumb, Giraud is a liberating force: where many great cartoonists have offered one more possibility, Giraud has provided the opposite: an infinity of possibilities. In that, he is surely the most generous cartoonist of his generation." I can't think of a better statement to make about Jean Giraud, who passed away on Saturday at the age of 73, than this.
Jean Giraud was one of those rare people, like Picasso and Jimi Hendrix, that came along and completely revolutionized the art form within which they worked. Think I'm exaggerating? You know Heavy Metal magazine? It wouldn't exist without him. Have you ever seen Alien, Tron, or the Fifth Element? He was a key reason as to why those movies looked the way they did. Even Marvel Comics belatedly celebrated his work with a slew of graphic novels starting in the late 80s and continuing into the mid 90s. He was also responsible for giving the world characters such as Lieutenant Blueberry, France's biggest selling western character, Arzach, the silent pterodactyl riding warrior that appeared in a series of ground breaking stories in 1975, Major Grubert, the star of The Airtight Garage, Jean's space opera masterpiece, and the list goes on and on. His characters and stories revolutionized comics in France and in the rest of the world as well. His influence on the global comics industry is wide ranging and profound.

I first discovered Moebius' work when I was 15 years old. Like many other people, my view of what comics art could be was forever changed by his work. His virtuosity, his range of styles, and his imagination caused a true epiphany for my 15 year old mind; his work and the person that he was were both object and lesson for me. I could go on and on about what a great example he was but I remember a moment that makes that more clear than any amount of verbiage ever could.
I remember going to the San Diego Comic-Con in 1989 because I wanted show my work to publishers and because I wanted to meet Moebius. I remember that day very clearly; my friend Kenny Goodacre and I were standing in line in front of Moebius' booth along with a very large group of other admirers. I was looking around and saw Jack Kirby at another booth just a few feet away and felt surprised by the contrast in the number of people that were there to see Moebius and the lack of people at Jack's booth. And Jack Kirby was an important man in the comics industry. I remember that as we were getting closer to the front of the line there was a guy who had walked up and was insisting on being allowed to go to the front of the line. I remember Randy L'Officier, half of the husband and wife team that represented Moebius at the time, telling the guy that everyone in line had been waiting patiently and that he would also have to do the same. "Come on, all I want is an autograph and I'll leave," he said. Randy, once again, patiently told him that he was going to have to wait like everyone else. "Fuck you, bitch," was his response. All along as this was going on in front of him, Moebius was doing a drawing in my friend's book. I remember him looking up, completely unfazed by the negativity in front of him, then looking back down and continuing with my friend's sketch. This moment showed me the kind of person that Moebius truly was. It's something that I've never forgotten.
In closing, I think that the best thing that I can do is to encourage fans old and new to continue searching out Moebius' work and exposing as many others to it as possible. When he passed away on Saturday, the world lost a brilliant man; thankfully, the body of work that he left behind is so vast that there is no doubt that many, many future generations will continue to be exposed to the brilliant and vivid imagination of Jean Giraud.
 Here are some links that will provide you with more information about Jean and his body of work: for general information: Wikipedia; for merchandise and books: his official website and Humanoids Publishing.